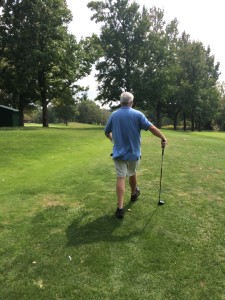 For Ed Faehr, golf has always been a major part of his life. He began playing at a young age and has been hooked ever since.
As a teenager he played for his school's golf team at Simon Kenton High School. He also played in college for the Eastern Kentucky University men's golf team in 1989.
The Eastern Kentucky University men's golf team has won 12 Ohio Valley Conference (OVC) championships including the most recent one in 2015.
In recent years, Ed Faehr has decided to use his skills and knowledge in golf to
help others love and appreciate the game. In November 2014, Ed Faehr made golf a part of his professional career becoming a PGA Certified Golf Instructor. He offers lessons to both kids and adults to help improve their game. For Ed Faehr, instructing golf is such a rewarding experience as he is able to share his love of the game with others and teach them how to play and enjoy the game to its fullest potential.
Each year, Ed Faehr participates in and helps organize the annual golf outing hosted by the Steinford Toy Foundation. The golf outing is held as a fundraising event for the foundation to buy toys for children and families in need during the holiday season. The day is always packed with fun activities including door prizes, raffles, hole-in-one contests, and other special events.
Golf has remained Ed Faehr's favorite sport over the years for many reasons. Not only is it a great way to spend time outdoors, it is a great way to stay active and challenge oneself to improve. Ed Faehr loves overcoming challenges and competing with others as well as with his own golf game. Whenever Ed Faehr is traveling or looking for new challenges, he seeks out new courses with difficult terrain and unique layouts to make himself a better player.
Ed Faehr enjoys capturing beautiful golf scenery while he is out on the green. To see more golf scenery, quotes, and more, follow Ed Faehr on Instagram: https://www.instagram.com/edfaehr/.